Recruit Niagara Moving Company for Apartment Moving in St. Catharines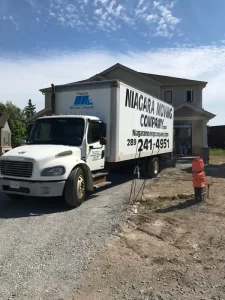 When it comes to living in Ontario, the Greater Toronto Area is the most popular one, so to speak. If you are relocating to a huge metropolis or just to a calmer area, you may want help moving your belongings. We provide relocation services to make your move as stress-free as possible. Our full-service staff is prepared to make your relocation as efficient as possible, from providing packing supplies to removing rubbish for you.
For apartment and condo relocation services, you can rely on us. We have earned various honors and accolades for our excellent work and client service throughout the years. Moving to a new house may be stressful, which is why it is important to choose a dependable and trustworthy company to assist you with your relocation.
We make every effort to exceed your expectations. We approach relocation in a personal and professional manner, ensuring that all bases are covered. If you need assistance with packing, unpacking, obtaining supplies, or anything else, we provide several services to make your relocation go as smoothly as possible.
Rely on Niagara Moving Company for Apartment Moving in St. Catharines
We have become one of Canada's fastest-growing moving firms. We serve customers in the Greater Toronto Area and the neighboring towns, and as professional firemen, we are dedicated to honesty, safety, and excellent service.
Our condo movers realize that, with all of the ups and downs of a residential or business relocation, hiring movers might seem like adding to an already-stressed budget. That is why we give reasonable costs to our customers. We attempt to be affordable so you can concentrate on getting settled in your new house while we handle your move.
The more information you can provide our movers, the faster your relocation will be. We will do our best to ensure your relocation is tailored and to your satisfaction, whether you have specialist goods that require packing and moving or need us to dump your boxes in certain places in your new house.