LOOKING FOR MOVING COMPANIES IN NIAGARA FALLS? CHECK OUT NIAGARA FALLS MOVING COMPANY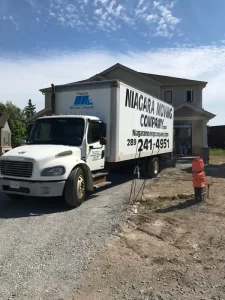 Are you looking for moving companies in niagara falls for your next house or office move trust Niagara falls Moving Company. But why? We provide qualified movers in Niagara Falls area. Whether you need local movers niagara falls or across Canada, we have the best local movers to take great care with your possessions. We'll cover your stairs and flooring with floor runners before we begin your move. When we load and unload the truck, we disassemble and blanket-wrap your furniture and other large goods before reassembling them when they are delivered. We arrange everything as needed around the house or any ancillary structures like garages or sheds. If you'd like, we can deliver to a self-storage facility. Our movers niagara falls will assist you in any local moving service.
Best moving services in niagara falls
A long-distance moving company in Niagara Falls area, Niagara falls Moving Company specializes in commercial moves and residntial moving within the niagara region. We can provide the appropriate moving trucks for your local moving or long distance moving anywhere you wish in Canada because we own our own fleet of trucks and big rigs.
We are a professional mover in Niagara Fall operating since 2001, and every member of our crew has undergone thorough training to guarantee that your relocation will go as planned, without a hitch, and to your satisfaction. Our team of experts will look after you and your priceless items from the moment you get in touch with us until the final item is safely installed in your new home or business.
MOVING SERVICES IN NIAGARA FALLS?
At Niagara falls Moving Company, we are not restricted to any particular working days. For our customers, we even operate on Sundays. We have a spare transportation vehicle and a moving crew ready to cater your moving service seven days a week, so we can also handle last-minute moves. we offer local moving services in niagara falls such as residential moving services, commercial moving services , delivery services, junk removal services. our niagara falls movers are ready to come handle any moving services such as packing and dissasembly services in niagara falls and re assembly services in niagara falls , your local movers offering the best moving services.
Our Niagara Moving Company crew offers a comprehensive moving service in the Niagara Falls area. But we are not just restricted to a single location, rather we have expanded our operations in different areas or places. St.Catharines, Welland, Niagara on the lake, Port Colborne, Wainfleet, Thorold, and some other destinations as well.
To make your next move hazard free that too at an affordable rate, connect with us. We can offer you an instant quote.
NIAGARA FALLS MOVING COMPANY