Team up with Niagara Moving Company for Long-Distance Moving in St. Catharines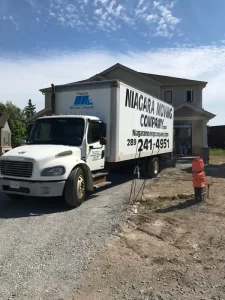 If you are moving to another province or country, you will probably want to consider hiring one of the many long-distance moving companies in your area. This is a good idea for several reasons, including convenience and safety – and you may be surprised to learn that sometimes it is not all that expensive either. When many people think of long-distance moving companies, they only think about movers that show up on moving day, load your belongings onto a truck, and transport your stuff to your new home. But nowadays, full-service long-distance moving companies offer more options than ever, including the following:
Packing/Unpacking
Whether you need everything packed or just the most fragile items, most long-distance moving companies offer the services you need. In addition, companies will likely provide unpacking services once you arrive at your new home for an extra fee. Hiring movers to unpack will mean your home will be set up and live-in ready in a day rather than weeks or months. Having your moving company take care of packing and unpacking for you often also means less opportunity for damage of precious items. The pros know how to wrap and move items that you may find impossible.


Assembly/Disassembly
Do you need something large and bulky – including waterbeds, swing sets, furniture, etc. – disassembled at your current home and put back together at the new place? Ask your moving company if it provides services that do just that. Eliminating the stress that comes with thinking about assembling and disassembling large items can really improve your overall moving experience.
Bring on Board Niagara Moving Company for Long-Distance Moving in St. Catharines


Short-Term/Long-Term Storage.
Are you arriving at your destination city before your new home or apartment will be move-in ready? Then ask your moving company if it provides short-term or portable storage for your belongings while you wait. Or maybe you are downsizing and need a more permanent storage solution. If that is the case, many of the best long-distance moving companies have storage services for rent or at least have connections with reputable storage facilities in the area.


Custom Crating
Certain belongings just will not fit in a traditional box, because they are too large, fragile, or odd-shaped. That is where custom crating comes in. Find a moving company that can offer crating services for things like framed artwork, sculptures, or electronic equipment. The company will pick up your item or items and make sure they are packaged to withstand the move.


Loading/Unloading
Probably the most vital part of getting a move right is how a company loads your things on the truck. Finding a moving company that is skilled in loading your belongings correctly and will do all of the loading and unloading for you is key. This may seem like a basic part of moving that everyone offers, but some moving and storage services make you load your own belongings, and you cannot ensure the safety of your things the way the professionals can.
Whatever your needs, we wants to go the extra mile to serve you during your move. With decades of experience, we have helped thousands of customers achieve a successful move by offering service extras like those listed above.