Contact Niagara Moving Company – Renowned Beamsville Movers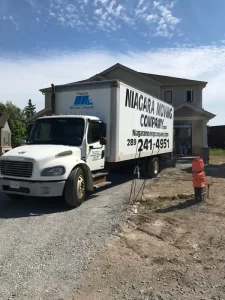 If you are searching for a professional and affordable moving company in Beamsville, we have got you covered! Niagara Moving Company (NMC) strives to rewrite the Ontarian relocation experience by providing the best hourly pricing along with quality moving services. We understand how shifting your house or office may leave a profound impact on your family or trade and our professionals aim to make it as less overwhelming as possible.
If your children study in a primary or secondary school, they will most likely have to befriend an entirely different group of individuals of their age when you relocate to your new home. On the contrary, if you have a business to manage, it will take a while for your employees too to become habituated to a new location when you move your office and this may adversely affect their overall efficiency. Considering all of these valid concerns, you must collaborate with a top moving company like ours and we promise to make your transition as smooth as possible.
Niagara Moving Company is a Full-Service Business in Beamsville
When you bring us on board, you can expect an expert, well coordinated, and prompt relocation service that does not cost an arm and a leg. We will make sure that each of your items is properly secured on our trucks before proceeding with our fleet to your new home or office, and if there is one thing that you are guaranteed to love about us, it will be our copious attention to every detail.
Both our chauffeurs and moving crew are rigorously trained in customer service management and you will even find that several of them can also interact in additional languages other than English and French. This is why we are immensely popular amongst the first-generation European and Asian immigrants in Ontario.