Seek Assistance from Niagara Moving Company – Famed Wainfleet Movers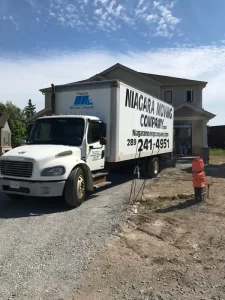 Niagara Moving Company (NMC) is relentlessly engaged in making every move the happiest one. Whether you are contemplating an office removal or thinking of shifting to your new condominium, we are here to help! Our expert crew will plan your relocation to the very last detail within the scope of your budget, making sure that your articles are packed and transported safely to the specified destination.
As one of the earliest moving companies in Wainfleet, we assure you that you will be provided with the best service and unrestricted access to our relocation resources, including each of the professionally managed warehouses to keep your valuables safely overnight, when you join hands with us. We will help you walk through the specifics of our moving services until you are prepared to take the plunge and sign on the dotted line. Furthermore, our crew will also ensure that you have understood properly each of the moving charges associated with your planned relocation, and when you work with us, you will not have to worry about paying any hidden fees or additional expenses.
Niagara Moving Company is a Full-Service Relocation Business in Wainfleet
Our moving team will pack your possessions carefully so that they do not suffer any damage during transit and will put them in designated carrying boxes. We will also label the packing containers appropriately before sealing their lids tightly with premium utility tapes for your benefit and additional safety. Our strategically located warehouses feature enterprise-grade security measures, each of them being digitally monitored over the web twenty-four hours a day and seven days a week. Do not hesitate to seek assistance from our crew if you are clueless about the things that you should ideally keep in a safe storage facility before you move out.
In addition to our core offerings, namely, residential removal, commercial removal, and three others, we also provide additional services, such as cleaning your property before and after relocation. Our company has purpose-designed this janitorial utility for households with young children and pets. They will be safe when we clean your premises since our cleaners do not utilize anything other than environment-friendly chemicals.