Call Niagara Moving Company – Prestigious Grimsby Movers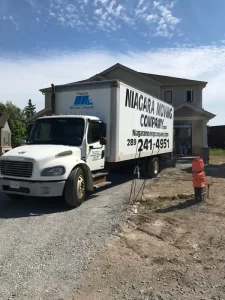 Niagara Moving Company (NMC) is proud to be a full-service moving company in Grimsby that not only transports your furniture as well as other goods from one place to another but also guarantees to offer you a memorable and pleasant experience. Our crew can do all the packing, heavy lifting, and more when relocating to your new home or office. Countless corporations and dozens of homeowners have trusted us since inception to help them pack as well as transport their valuables securely and carefully.
You may hire us to move the assets of a single room or your entire office or house. We also provide complementary wardrobe packaging when you purchase one or more of our residential moving services. All you need to do is to hang your clothes for us so that our team can organize them in rugged trunks before you relocate. We will even unpack and arrange the apparel in your closet as soon as our trucks reach their destination.
Niagara Moving Company is a Full-Service Relocation Business in Grimsby
If you have the time and energy to pack your belongings, we can ship packing articles to your home directly. Feel free to approach us for ordering sealing tapes, cardboard boxes, as well as everything that you may require to store and carry your valuables when relocating. Do not shy away from purchasing too many cartons since you can always return us the unused ones and ask for a complete refund.
Be certain that your furniture is secured with us during transit. We will utilize shrink wrappers and high-quality blankets to safeguard the same when being transported. Our competent crew will employ cushioned dollies and shoulder harness straps to lift bulky furniture pieces. We will also make sure that your hardwood or tiled flooring is not damaged when such articles are being hauled by our team.