Consult Niagara Moving Company for Commercial Moving in St. Catharines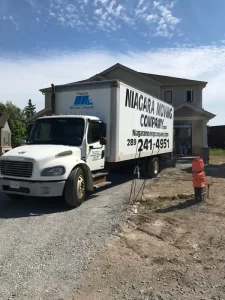 We have skilled and professional office movers on staff. They will assist you in making your move as swift and efficient as possible for a smooth transfer, whether it is a little or huge place. We will guarantee this by identifying and detailing several steps of the procedure to make your relocation less complicated and less disruptive.
During the planning step, a professional commercial moving expert will organize a meeting with the client to discuss the possible moving alternatives, the number of movers, installers, and moving bins needed, and the quantity of equipment necessary. All queries and concerns will be handled during this period, and the transfer will be planned and executed.
The number of move bins required by your workplace will be supplied before the relocation for your team to pack. Furthermore, our professionals may give information on our moving supplies, moving recommendations, and moving services such as warehousing, on-site storage containers, and disposal services.
Employ Niagara Moving Company for Commercial Moving in St. Catharines
Our skilled movers can disconnect any computers, phones, printers, and fax machines during the removal stage of the move. Our expert installers will disassemble and rearrange system furniture and case goods such as desks, cabinets, and bookshelves.
Our experts are skilled in the many furniture system brands available on the market today. Our movers will carry all of your items to the new site throughout the shifting stage of your workplace. Our moving trucks are outfitted with pads, straps, dollies, screen carts, terminal carts, and open bins to ensure the safe transport of your belongings.
Once we arrive at the new site, the move supervisor will collaborate with your employees to verify that all products are delivered to the correct spot. Our goal is to get your workplace up and running as fast as possible.
Our installers will rearrange all furniture and keyboard trays during the reassembly stage, and the experienced movers can aid in the re-connection of computers, phones, and printers. In addition to our moving services, we may collaborate with you to create a well-organized floor plan before relocating.