Niagara Moving Company – The movers you can trust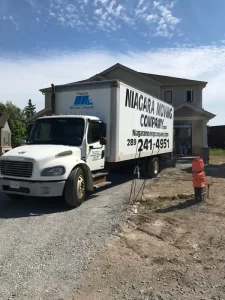 Your plan of shifting to a new place can simply ease out, and you need not take any headaches. How? Hire the services of Niagara Moving Company. With More than twenty years of experience in this field, Niagara movers, Niagara on the Lake can safely shift and relocate your valuable items.
Nowadays, the technology significantly contributes to customers finding the best moving services for their needs. Our skilled team of movers is committed to helping individuals move their furniture and other possessions in the most secure as well as a dependable manner possible.
Providing you with seamless shifting and packing services is our main priority. Additionally, we have the expertise and understanding required to offer our clients services that may consistently leave them wholly delighted. We also offer our customers affordable rates so that you need not worry about the financial part of shifting or moving.
We are expert movers in Niagara on the Lake
When you live in Niagara on the lake, you may choose from a wide range of moving services. However, catering moving services in a significant area like Niagara on the Lake demonstrates experts, as well as experienced movers', have the ability to adapt, think swiftly on their feet, and provide clients with exceptional customer care. Different services will be provided by each business. Some businesses might provide packaging solutions, while others would not, or they might provide some extra services to draw in more customers.
Competitive pricing is what we vouch for
At Niagara Moving Company, the price of the services varies reasonably depending on a number of variables. Depending on your location and how far you will need to transport everything, items that need to be transported into the vehicle are another consideration. The bigger the quantity, whether it be boxes or a grand piano, the more you should anticipate paying. Along with the base price of the services themselves, you could also have to pay an hourly rate. This will be less expensive if you can make things go smoothly because they won't have to spend as much time organizing everything. The insurance will also be your responsibility to pay.
For cost-effective rates and seamless packing and moving service give us a call. Our team will help you.