Hire Niagara Moving Company – Fabled Thorold Movers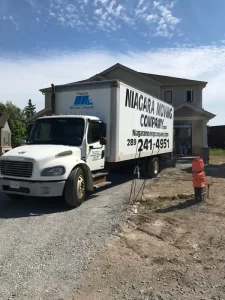 At Niagara Moving Company (NMC), we can assist you with relocating your company, downsizing in your retirement years, or moving out from a condominium to your first home, and our key objective is to provide you with a stress-free relocation experience. You can count on us for packing your goods, safe transportation, procuring packing materials, and even storing your valuables temporarily in a guarded facility equipped with digital surveillance.
Our moving crew boasts vast experience in residential as well as commercial packaging techniques and we are pleased to help you relocate to your new office or house. From providing the essential packing supplies—heavy-duty boxes, wrapping papers, and pre-glued tapes—to labeling the cartons as well as loading them on our trucks, we can handle everything.
Niagara Moving Company is a Full-Service Relocation Business in Thorold
As full-service movers in Thorold, we also offer tamper-proof wardrobe boxes so that your favorite apparel is not spoiled during transit and until your new abode arrives. Note that this utility has been specially introduced to keep our retail clientele (working individuals, couples, families, renters, and students) in mind, but we will not prevent you from using those coffers to keep your business suits in mint condition when moving to your new headquarters.
Since we have a highly sophisticated system in place to monitor our expanding convoy of commercial trucks in real-time, you do not need to worry about whether your belongings will arrive safely at their destination or not. Our experts will pack all of your articles without leaving a single dent in them, paying fulsome attention to perishable as well as fragile products, and be certain that they will never populate the packing crates beyond their optimal capacity. We will make sure that your expensive possessions are organized in such a way so that they are not able to wiggle inside the goods containers when being transported to your destination.