Best residential moving company in St. Catharine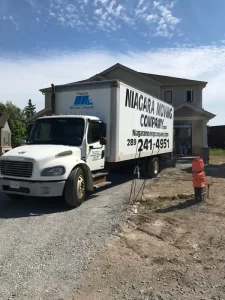 While it would be accurate to say that Niagara Movingspecializes in residential moving, the truth is that we are the most comprehensive all-in-one moving service provider and have expertise in almost all aspects of moving services overall. We cater our service in St. Catharine, Welland, Niagara Falls, and other areas as well.
The most thorough residential moving service currently offered in the market will be provided by our devoted and dependable employees, who have completed exact and thorough training. Due to years of customer-centered service, we have been able to recognize what matters most to our clients and build on these reliable connections to make sure that every transfer, no matter how big or small, is treated with the highest care and consideration.
Regardless of how big or little your relocation is, you can rely on us for unmatched customer service and outcomes that come with a lifetime warranty. Every step of the way, your personal move organizer will be there to guide you and give you all the information you need to complete the move you want.
Why not let us move you locally or long distance for you? Over the years, we've assisted people just like you move without any issues or delays. Fill out our online contact form or give us a call to speak with one of our helpful representatives right away.
We don't charge extra cost
At Niagara Moving Companywe work hard to be totally open and honest with our clients regarding our moving costs. On moving day, we want our customers to understand exactly what they will be paying for and why. Here are a few elements that can affect your quote when using Niagara Moving for your move.
With every quote, Niagara Moving takes into certain aspects or variables. Inventory, distance, and services that are necessary. For efficient moving service connect with us.