Hassle-free furniture delivery service in St. Catharine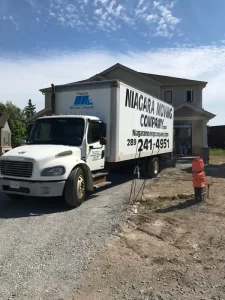 Are you planning to settle in the Niagara Falls area or St. Catharine? Not sure how will you move your furniture here? No worries we will take care of it. Niagara Moving Company is a full-service mover that specializes in delivering furniture. If you are a business or house proprietor awaiting the delivery of new furniture or are planning to relocate, we will accept, uncrate, check, and relocate your furniture to your residence or place of business. Our delivery team for furniture is capable and dependable. We will carefully ensure that your things arrive on schedule after we receive your shipment.
Customized furniture delivery solutions for our customers
Niagara Moving makes it simpler for you to expand as a store, designer, or furniture business or even you are shifting your residence without the headaches of handling the logistics all by yourself in St. Catharine. We can take care of product shipping to your customers and make sure they always have a great time.
Possess a unique product? To ensure safe shipment, do you need more wrapping or padding? Our attentive crew ensures that the products are delivered with the least amount of transit damage possible.
With Niagara Moving, you can organize your delivery effectively and give clients who purchase from you a remarkable experience without adding to your workload.
Affordable pricing
We do not wish to confuse or bother you with lengthy or intricate estimates. With Niagara Moving, you can pay hourly rates for furniture deliveries, which include packing, hauling, assembly, and dismantling.