Rent Niagara Moving Company – Reputed Lincoln Movers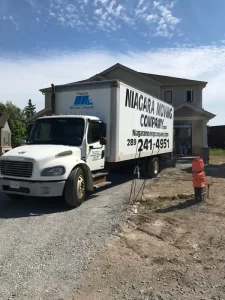 If this is your first time working with Niagara Moving Company (NMC), we encourage you to spend ample time with our crew and understand the relocation process in detail. This will provide you with an extensive overview of what you may expect from us and help you prepare for the move. As the best moving company in Lincoln, we look forward to making your home or office removal as congenial as possible to your daily routine and lifestyle.
Once you have approved the proposed estimate and accepted our offer in writing by signing the service contract, you can sit back and relax whilst we start loading the trucks with all of your possessions. Unlike several of the present-day moving businesses in Canada, our company will not squander your hard-earned money or valuable time by delaying the relocation process purposefully. We truly excel in carrying out a wide range of tasks, including packing delicate items and moving girthy furniture. Our crew will also ensure that your relocation is completed safely and on time.
Niagara Moving Company is a Full-Service Business in Lincoln
We will do to the best of our abilities everything that you may require to ease the process of relocating to your new office or house. Our team is always prepared to lend an ear to you when you need it most, patiently listening to your requirements so that you do not have anything to worry about later on, and replying to your queries as eloquently as possible.
We are particularly known for possessing one of the fastest-growing fleets of industrial trucks in the country, and having several of the finest commercial drivers in the freight forwarding industry working for us, each of them boasting an enviable level of familiarity with long-distance driving on Canadian roads. Our talented chauffeurs meet the highest standards in the professional trucking business and we recruit them only after conducting multiple levels of background checks.