Full service moving company in Port Colborne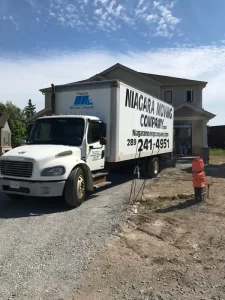 Full service- do you know what it means? At Niagara Moving Company we provide a comprehensive moving solution to our clients as per their shifting and relocating requirements. Our array of services comprises – 
Commercial & Office Moving
Residential Moving
Condo & Apartment Moving
Specialty Moving
Long-distance transportation within Ontario
Storage of items and supplies
Junk Removal
However, we have not restricted ourselves in providing the above-mentioned services, we focus on catering quality service. 
We are well staffed
Our staff is skilled professionals with years of moving experience; they excel at what they do and love doing it! For all of your long-distance moving needs, both residential and business, we take pride in providing the best tools, staff, and services.
Our membership as a trusted moving company gives us access to an exceptional partner network that enables us to provide services and support in several areas including Port Colborne. Whether you are moving out of Port Colborne or shifting within Ontario area, we are there to assist you. If you are searching for a reliable moving company near me in Port Colborne, don't hesitate to give us a call. Connect us to get a quote.
Where are you moving to? We can get you covered
When our crew arrives at your house, they are well equipped to provide services. When we arrive, we'll use floor runners and cushioning to safeguard your belongings. The things that need to be moved will subsequently be identified during a walkthrough. Our Staff Supervisor will create a thorough inventory of your consignment before loading. The inventory confirms that all products are delivered to your new house or office space, but more importantly, it is a crucial part of our services' customs clearance process.
To safely remove from your home and transport any goods, including mattresses and tables, our personnel will disassemble them. Large furniture pieces and other things that do not fit into crates will be wrapped for protection while in transit.
After being accounted for, your items will be loaded into the truck to make the most of the available space and prevent shifting during transport. Our driver will conduct a walkthrough of the cargo once it is loaded to make sure everything is there. Give us a call to know more about our services.